What to Wear to Sandown Park Racecourse.
Situated near London in Esher, Surrey, Sandown Park Racecourse offers racing all year round.
Featured here is our comprehensive specialist guide on what to wear to Sandown Park!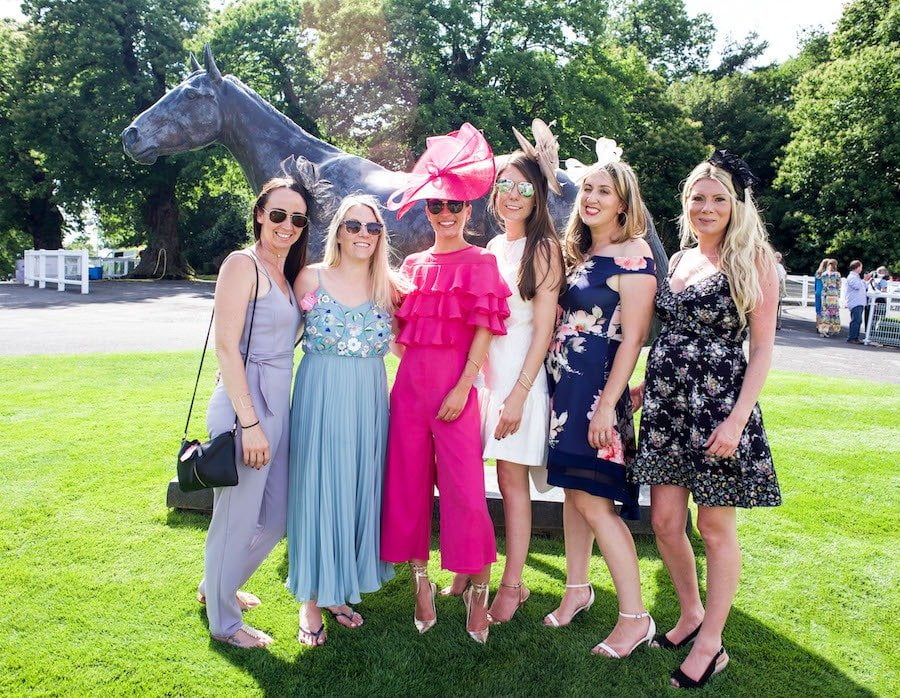 Official Dress Code
Premier Enclosure & 1875 Lounge
Guests are required to follow the racecourse's smart casual guidelines and are encouraged to dress for a special occasion.
Hats and fascinators are welcome but not essential.
Men are advised to wear collared shirts, polo shirts or polo necked jumpers.
Smart trousers, chinos and smart jeans are accepted.
Shorts, sports trainers, sportswear and flip flops are not permitted.
Fancy dress not permitted.
Restaurants & Private Boxes
Same as the Premier Enclosure dress code.
Grandstand Enclosure
There is a relaxed dress code, but many opt to dress for the occasion.
Smart shorts, smart denim jeans and trainers are acceptable.
Denim must not be ripped.
Football shirts and vests are not permitted.
Fancy dress is permitted but should not be offensive (if in doubt please call the racecourse).
Summer Racing Feature Days include:
Coral Eclipse Festival in July
Official Summer Racing Dress Code for the Ladies
As above but the racecourse also adds:
Showcase your best and most colourful outfits.
Many opt for dresses and skirts in the warmer weather, or jumpsuits are a great alternative.
Hats and fascinators are optional but make a fantastic accessory.
We Say…
The Eclipse Festival is a lovely occasion in a rather beautiful racecourse. Dress as though you are attending a smart summer wedding and make sure you add a fine hat or headpiece. Being close to London it's a safe bet that the latest trends will be on show.
The Hat
If you are planning to wait until the summer dresses are on display in the high street shops in order to be bang on trend, then team with a ready-to-wear headpiece from an independent milliner, plus other unique accessories. This will give your outfit that individual look and the best chance of avoiding that heart-stopping moment when you see someone in the same outfit as you.
The Sandal
July is the season for sandals, but we are not talking about beach sandals, remember you are dressing as though you are going to a smart summer wedding.
High heels elongate the legs and add elegance to an outfit. The sharp stiletto may look sexy but not so good if you are on your feet all day. Take a tip from these chic ladies who have chosen a chunkier high heel. Their strappy styles ooze glamour.
The Pedicure
Ensure your feet are in tip top condition as they will be exposed in sandals. A Pedicure can give them a freshly groomed look and complete your flawless outfit.
Choose a nail polish colour to match the mood of your outfit: soft pastel shades for romance; reds, purple and burgundy for the classic sexy style and bright colours for a bold look.
The Sunglasses
It is the height of summer so don't forget to accessorise with a pair of cool sunglasses.
Official Summer Racing Dress Code for the Gentlemen
As above but the racecourse also makes an addition for what to wear to Sandown Park Racecourse:
A Light jacket or blazer is a popular choice in case of chilly evenings, paired with smart shoes.
We Say…
Remember you will be amongst trendy company so opt for modern takes on the traditional summer wear – such as patterned and colourful blazers. The above dapper gent has opted for a bright tartan blazer, accessorised with a pocket watch chain and teamed with a smart pair of jeans.
The Suit
Blazers and chinos are popular for the summer races but many  gentlemen still opt for the suit especially in the Premier Enclosure.
Check out our How to Spice up your Suit article to take the office look out of your style.
The Hat
Sport a trilby or fedora with your suit or blazer to add a dash of personality.
Plus, on the practical side, it will keep the sun off your face.
Sunglasses
July is the month to wear sunglasses and is a popular accessory in all of the enclosures.
Click here to see our article on what style of sunglasses to wear for your face shape.
Main Jump Racing Festivals
The Sandown Gold Cup
Tingle Creek Chase
Official Jump Racing Dress Code
As at the top of the article but the racecourse adds on the topic of 'what to wear to Sandown Park Racecourse':
A tweed jacket or blazer is a popular choice for winter – whilst looking stylish and on trend, they are also normally heavy-weight, perfect for keeping off the chill.
Whilst hats are not necessary, they're great for when it's cold and wet!
For the Ladies, We Say…
Tweed doesn't have to be conservative as many fashion brands have picked up the tweed baton and created colourful and fashionable suits, dresses and coats.
Other fabric favourites are tartan, houndstooth and block colour wool, along with leather, suede and faux fur.
The Coat
For those winter races such as The Tingle Creek Chase, wrapping up warm means  your coat will be attracting all the attention and becomes the fashion priority.
Choose a cheerful  colour such as reds/oranges to brighten up a dull day. Choose wool for warmth and a classic style or faux fur as a fun glamorous option.
 The Hat
Although a hat is not required it will keep your head warm from the winter chill whilst completing your raceday outfit.
Colourful berets, felt fedoras and faux furs will add a flamboyant glamour to your tweed suit.
The Scarf
This is where you should splash out on colour, especially if you decide on a neutral colour winter coat or jacket. Choose the right colour and it will lift your complexion giving a more youthful glow but choose the wrong colour it could drain and age you.
Luckily scarves come in an array of hues so it should be easy to find a shade to suit your colouring. 
Don't be afraid to add another print into the mix; it creates interest, and prevents your outfit from becoming too matchy matchy. After all we don't want to look as though we tried too hard to look this good.
The Boot
Boots are a good option for the winter races. They keep feet and legs warm on a chilly raceday and you could sneak on a pair of socks (no one will know).
Heels on boots can be lower and chunkier without losing points on style – great when you are standing on your feet all day.
Plus if the weather is really bad and wet, somehow muddy boots don't look half as bad as muddy shoes.
Ankle boots are perfect for both cold and milder days. Just add thicker tights and a pair of socks if the weather is cold. Also it gives you an opportunity to wear block coloured or patterned tights to brighten up your outfit.
Leather Gloves
Colourful leather gloves are an elegant accessory to an outfit and also will provide warmth. Match or contrast the colour with your handbag, hat or shoes; it doesn't matter as the colours will make an impact.
For the Gentlemen, We Say…
The weather will be cold and chilly so go for a tweed suit and a smart overcoat.
The Tweed Suit
A three-piece tweed suit is a great investment for the winter racing season.
Not only will you stay warm and strike a sartorial pose when worn all together, it can look equally dapper when worn separately, and proves to the rest, that you know exactly what to wear to Sandown Park Racecourse. For a quirky look wear the trousers and waistcoat together but add a different coloured tweed jacket, or wear the jacket and trousers and change the waistcoat to another tweed or a block colour woollen waistcoat.
Tweeds add colour, texture and patterns that a normal business suit can't.
Smaller guys (in height or in weight) should avoid the larger checks as these will just drown their frame. Go for the smaller checks.
The more textured tweeds are heavier so will add bulk – good for the skinnier guy.
The heavier or more rounded guys should go for the less textured tweeds and the less structured soft tweed jackets.
Tweed traditionally comes in muted earthy and autumnal colours which suit men with warm and muted colouring. Keep the warm muted colouring with shirts and jumpers to complement the look such as a cream shirt or orange jumper.
But don't worry if your colouring is not warm and muted, there are some tweeds out there in bolder brights and cooler colours such as blues. Or if you already have a tweed jacket in a warm colour, just team it with cooler shades of pinks and blues to add more contrast and brightness.
The Overcoat & Trench Coat
Experienced winter racegoers will emphasise how cold it can get when you spend the day outdoors, and this is where a warm overcoat will pay dividends. Go for thick wool or a technical fabric that will withstand rain and wind. This is a good alternative for keeping warm for those who prefer to wear a normal everyday suit rather than tweed. But if you like tweed and want to be extra cosy then make sure it is large enough to fit comfortably over your tweed suit.
For the milder autumn racing events, an overcoat may be too cumbersome so opt for the lighter trench coat to give another layer of warmth and protection against the rain or wind.
The Hat
A hat will help to keep your head warm and dry from the winter weather whilst adding a dapper flair. Go for the flat/Baker boy cap or a felt trilby hat. Flat caps complement a tweed suit and trilby an overcoat but this is not set in sartorial stone.
The Scarf
Keep warm but also add a pop of colour to your outfit with a wool scarf. If you are wearing a plain neutral coat then this is a way to introduce a pattern and a bright colour when planning on what to wear to Sandown Park Racecourse. If you are wearing tweed or a patterned coat, then bring out one of the colours in the pattern. It doesn't have to be the same shade and it doesn't have to be the dominant colour in the pattern.
Shoes and socks
Traditionally brogues are worn with tweed and they are also good for walking on soggy grass; after all this hardy shoe came from soggy origins. Originating in Scotland and Ireland, it started as a heavy untanned leather with perforations which were not for decoration but to allow water to drain from the shoes whilst walking through bogs and other wetlands. It became a country walking and sports shoe when the gentry saw the benefits and is ideal for the winter races.
Again another way to add personality and brighten your outfit is with a pair of colourful/patterned socks.
An alternative to the brogue is the smart boot providing more warmth and also more protection if you encounter any muddy puddles.
Karen Grace studied Personal Styling at the London College of Fashion and is Eclipse Magazine's Fashion & Beauty Editor.
You can read more of Karen's fashion advice at: www.frumpytofunky.com
For personal shopping and styling services you can reach her via frumpy to funky on [email protected]