Newbury Racecourse is one of UK's leading horseracing venues, with a rich heritage.
The racecourse stages some of the sport's top races throughout the year including The Ladbrokes Trophy (formerly The Hennessy Gold Cup) in the Jump season and the Lockinge Stakes in the Flat season.
Newbury Racecourse – Your Venue for Racing | Hospitality | Events
Official Dress Code
Premier Enclosure, Hospitality and the Hennessy Restaurant
Racegoers are encouraged to wear smart attire, gentlemen are asked to wear a collared shirt although a tie is not essential.
Smart denim with no rips or tears and long tailored shorts are acceptable.
No sports/denim shorts, t-shirts, vests, sports/supporter shirts, tracksuits, sportswear (including trainers) or bare chests. Gentlemen's flip flops/sandals are not permitted.
Grandstand Enclosure and Racegoers Restaurant
No sportswear, bare chests or ripped/torn denim.
Fancy dress is welcome although the racecourse reserves the right to refuse admission to anyone whose attire may cause offence or danger to other racegoers.
Under 12's – no dress code.
The Lockinge Stakes in May
Lockinge Day is the richest day in Newbury's year and is one of the social highlights of the summer, featuring live music after the racing and prizes for racegoers.
Dress Code – as per the General Dress Code at the top of this article.
For the Ladies, We Say..
Although still spring, the fashion at this festival leans more towards summer wardrobes. But do consider your cover ups carefully to counter chill winds or rain: a tailored jacket in a summer colour over your dress is a good option; a summer dress with statement sleeves could hide a thermal vest; or opt for a luxurious a cashmere wrap.
The Headpiece
Hats are not compulsory and most ladies opt not to wear one, although a flamboyant hat is always welcome! Those who do generally go for a large fascinator or headpiece.
Footwear
It's quite a walk from the Parade Ring to the Finishing Post so consider your footwear carefully if you like to follow the Circuit Ritual. Wedge heels, block heels and flats are your friend.
The spectator areas are well paved so you can avoid the grass areas if you choose, and won't come unstuck if you do prefer to wear high heels.
For the Men – What to Wear
Gentlemen are asked to wear a collared shirt in the Premier Enclosure, Hospitality areas and the Hennessy Restaurant, although a tie is not essential.
For the Men, We Say..
Many gentlemen do wear suits, but a tie or jacket is not obligatory – forget the tie to give a more smart casual look. And if the weather permits, swap the jacket for a waistcoat. Dress with a colourful pocket square to maintain that individual dapper style.
Smart denim jeans, chinos and long tailored shorts are also acceptable in the Premier Enclosure, Hospitality areas and the Hennessy Restaurant provided they are worn with a collared shirt.
Footwear
Go for smart casual such as a pair of suede brogues or a pair of loafers, both soft enough to wear without socks if the weather is warm.
If you do wear socks, choose colour to brighten up your step.
The Ladbrokes Trophy (formerley The Hennessy Gold Cup) at the Winter Festival
Held in late November, this is one of the major races in the entire steeplechase calendar.
Dress Code – as per the General Dress Code at the top of this article (except the tailored shorts).
We Say…For the Ladies
Dress for the weather and layer up for warmth, but still opt for glamour – after all this is a major racing event.
Choosing an outfit that can be slightly changed on the day is a safer bet for your fashion attire. Instead of a dress think of a skirt or a pair of smart trousers. Then have a blouse and jumper ready to team with the jacket so you can decide on the day depending on the weather.
Chances are, the weather will be cold and chilly and most of the time you'll be keeping snug and warm in a coat or jacket whilst watching the races. So it will be your coat attracting all the attention and for style your outerwear becomes the fashion priority. Choose a cheerful  colour such as reds/oranges for your coat or for a more subtle style, go for bold colours in accessories to brighten up a neutral coat.
Keep warm and stylish in the favourite fabric of any winter racing event – TWEED. Tweed doesn't have to be conservative as many fashion brands have picked up the tweed baton and created colourful and fashionable suits, dresses and coats.
Other fabric favourites are tartan, houndstooth and block colour wool, along with leather, suede and faux fur.
Accessories are key in dressing up an outfit; they add a touch of individuality and will pull the whole outfit together. Plus it's a great way to update an existing wardrobe or add colour to a neutral coloured winter coat.
The Hat
Although hats are not required, many women wear one to complete their raceday outfit, such as colourful berets, felt fedoras and faux furs.
The Scarf
This is where you should splash out on colour but choose wisely. The right colour will lift your complexion giving a more youthful glow whilst the wrong colour can drain and age you. Luckily scarves come in an array of hues so it should be easy to find a shade to suit your colouring.
Don't be afraid to add another print in to the mix, it creates interest, and prevents your outfit from becoming too matchy matchy. After all we don't want to look as though we tried too hard to look this good.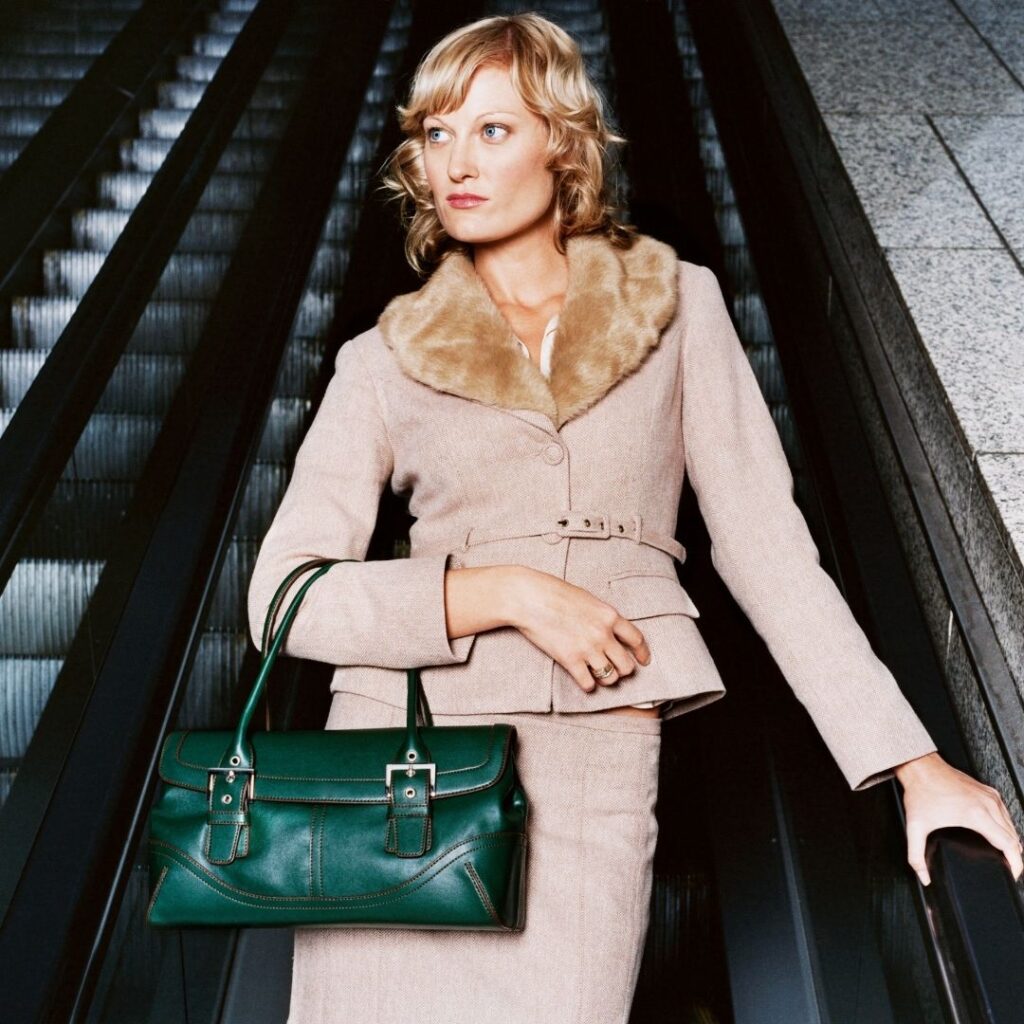 The Handbag
Your handbag has to be of course stylish but also practical; after all it has to carry all your racing essentials. The best styles are those which will free your hands to hold that glass of Champagne and to wave your horse past the finishing line.
Shoulder bags are ideal and can be worn on the shoulder or across the body if you really mean business. A large size bag is very handy to carry gloves, scarves and even sunglasses if the sun does decide to shine.
The bag is another way you can add a flash of colour to an outfit.
Footwear
Boots are a good option for the November weather. They keep feet and legs warm on a chilly racing day (plus you could even sneak on a pair of socks and no one will know). In addition, heels on boots can be lower and chunkier without losing points on style – great when you are standing on your feet all day.
Ankle boots are perfect for both cold and milder days. Just add thicker tights and a pair of socks if the weather is cold. Also it gives you an opportunity to wear block coloured or patterned tights to brighten up your outfit.
Leather Gloves
Colourful leather gloves are an elegant accessory to an outfit and also will provide warmth. Match or contrast the colour with your handbag, hat or shoes; it doesn't matter as the colours will make an impact.
Jewellery
Whilst keeping snug under your coat and scarf, a necklace will not be on show. So make a statement with a pair of earrings, a brooch or a scarf ring.
Wearing bracelets over mid length gloves can provide a great setting. Add glamour with pearls and gemstones.
For the Men
The Winter Carnival has a Gentleman's Day and is the perfect excuse to don your finest suits and for the chance to be crowned 'Best Dressed' with fantastic prizes on offer.
We Say…
The weather will be chilly so go for a tweed suit or a smart overcoat.
A three-piece tweed suit is a great investment for the autumn/winter festivals.
Not only will you stay warm and strike a sartorial pose when worn all together, it can look equally dapper when worn separately. For a quirky look wear the trousers and waistcoat together but add a different coloured tweed jacket, or wear the jacket and trousers and change the waistcoat to another tweed or a block colour woollen waistcoat.
Tweeds adds colour, texture and patterns that a normal business suit can't.
Smaller guys (short or in weight) should avoid the larger checks as these will just drown their frame. Go for the smaller checks.
The more textured tweeds are heavier so will add bulk – good for the skinnier guy. The heavier or more rounded guys should go for the less textured tweeds and the less structured soft tweed jackets.
Tweed traditionally comes in muted earthy and autumnal colours which suit men with warm and muted colouring. Keep the warm muted colouring with shirts and jumpers to complement the look such as a cream shirt or orange jumper. But don't worry if your colouring is not warm and muted, there are some tweeds out there in bolder brights and cooler colours such as blues. Or if you already have a tweed jacket in a warm colour, just team it with cooler shades of pinks and blues to add more contrast and brightness.
The Overcoat
Experienced winter racegoers will emphasise how cold it can get when you spend the day outdoors, and this is where a warm overcoat will pay dividends. Go for thick wool or a technical fabric that will withstand rain and wind. This is a good alternative to keep warm for those who prefer to wear a normal everyday suit rather than tweed. But if you like tweed and want to be extra cosy then make sure it is large enough to fit comfortably over your tweed suit.
A bright colour will make a statement for big occasions, while more neutral tones will blend in with any occasion and match most suits.
The Shirt
Tweeds look dapper with crisp cotton shirts or the softer and warmer brushed cotton shirts and even denim – just choose which one depending on the weather and the style you are looking for. Don't be afraid to mix prints.
Accessories are key if you want to win the 'Best Dressed'
The Hat
Go for the flat cap/bakers boy cap or a felt trilby hat. Flat caps complement a tweed suit and trilby an overcoat, but this is not set in sartorial stone.
The Waistcoat and tie
A waistcoat will provide another layer of warmth against the elements, and a contrasting waistcoat highlights your sense of style with great panache.
Note: Opt for wool waistcoats and leave the silk/satin waistcoats to the wedding parties.
Sartorial Rule: On a single breasted waistcoat ALWAYS leave the bottom button undone. Why, you ask? That's a good question and there are a few possible theories. We favour the horse riding theory: to prevent the waistcoat from creasing, the gentleman kept the bottom button open. However the most popular is that of the Prince of Wales (future King Edward VII) unbuttoning his waistcoat due to a feeling of tightness and his court followed suit thinking this was a new trend.
Ties are not obligatory but do complete the dapper look. Both bow ties and normal ties suit tweeds.
The Pocket Watch
Superseded by the wristwatch in the 1940s, the ubiquitous pocket watch almost fell into oblivion. Now this elegant timepiece has regained popularity due to the increase in the wearing of waistcoats and the three piece tweed suit.
The Pocket Square
Another accessory which always adds a dashing touch with no effort at all is the pocket square – the only rule to remember is that it should never exactly match the tie.
The Scarf
Keep warm but also add a pop of colour to your outfit with a wool scarf. If you are wearing a plain neutral coat then this is a way to introduce a pattern and a bright colour. If you are wearing tweed or a patterned coat, then bring out one of the colours in the pattern. It doesn't have to be the same shade and it doesn't have to be the dominant colour in the pattern.
Shoes and socks
Traditionally brogues are worn with tweed. Originating in Scotland and Ireland, it started as a heavy untanned leather with perforations which were not for decoration but to allow water to drain from the shoes whilst walking through bogs and other wetlands. It became a country walking and sports shoe when the gentry saw the benefits.
Again another way to add personality and brighten your outfit is with a pair of colourful/patterned socks.