What to Wear to Goodwood Racecourse.
Situated in the Sussex Downs, 10 miles from the coast and north of Chichester, Goodwood Racecourse is part of the historical and picturesque Goodwood Hall Estate along with a racing circuit, an aerodrome, golf courses and Rolls Royce headquarters.
The racecourse holds 19 unique race days opening end of April and closing with the Season Finale in October. Its most famous racing event is the Glorious Goodwood Festival (currently sponsored by Qatar) in August.
Read our specialist guide to what to wear to Goodwood!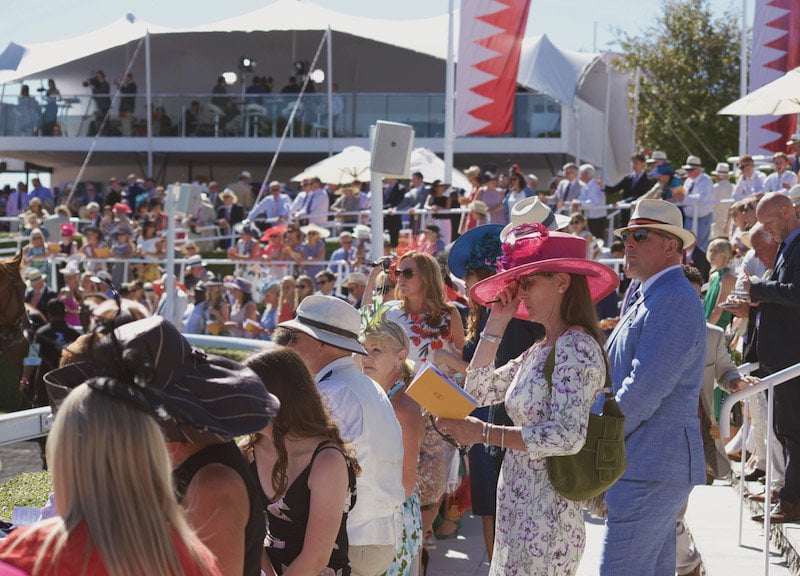 Official Dress Code
Richmond Enclosure – their most stylish and exclusive enclosure:
Gentlemen are required to wear a jacket accompanied by a tie, cravat or polo neck sweater.
Boys aged 7–15 years are kindly encouraged to wear a collared shirt.
Ladies are encouraged to dress stylishly but with a relaxed feel. A floaty dress or an elegant top and trouser/skirt combination will suit any of their racedays. They do suggest that you leave stiletto heels at home as the uneven ground can be tricky to walk on.
All: jeans, trainers, shorts and fancy dress are not permitted.
Gordon Enclosure – slightly less formal than the Richmond Enclosure (non Qatar/Glorious Goodwood Festival).
Racegoers are encouraged to dress smartly.
Shorts, trainers and sportswear are discouraged.
Fancy dress and sleeveless tops (for men) are not permitted.
Gordon Enclosure – for Qatar/Glorious Goodwood
All gentlemen are encouraged to wear a jacket and tie.
Both ladies and gentlemen are urged to dress to impress.
T-shirts, sleeveless tops (for men), sports attire, trainers, shorts, ripped/torn jeans and fancy dress are not permitted.
Tailored shorts are allowed.
Lennox Enclosure – their most relaxed enclosure.
There is no formal dress code for this enclosure, but many racegoers do still like to dress up.
Fancy dress and sleeveless tops (for men) are not permitted.
What to Wear to Goodwood Racecourse for Qatar Goodwood Festival.
Affectionately called Glorious Goodwood this five-day festival takes place at the end of July/beginning of August.
For Ladies, What to Wear to Goodwood Racecourse, We Say…
As the ultimate stylish garden party, Glorious Goodwood is one of the most relaxed of the big festivals. By relaxed we don't mean T-shirts and denims, think fresh, chic and floaty rather than cocktail dresses. Vintage is also a winner here.
It is also the ideal racing occasion for the Boho chic look. But do make sure your Boho style is elegant chic rather than festival casual, especially if visiting the Richmond Enclosure.
Maxi dresses actually look better when worn with a low heel or flat sandals, a great choice for Goodwood with its uneven terrain and decking areas.
The Hat
While not obligatory, ladies are encouraged to wear hats. Aim for elegant wide-brimmed hats, straw summer hats, ladies' Panama hats or understated pillbox rather than outrageously eye-catching creations…
…unless you are competing for the Ladies Day prize.
But then, still don't go overboard, this festival is all about looking effortlessly chic.
The Shoe
Flat, block heels or wedges are encouraged due to the racecourse's uneven terrain and decking areas, but that doesn't mean flip-flops; your flat shoes or sandals still need to be dressy.
If your outfit is the vintage look, then the kitten heel is a purrfect choice and more practical than the high stiletto.
Avoid high heels, especially stilettoes (unless you plan to aerate the lawns).
Jewellery
To complete the Boho chic floaty look, jewellery should be delicate but fun, with tassels, beads and lots of layers amongst the silver and gold. 
If you have opted for a vintage style outfit, finish off the look with bold costume jewellery.
The Sunglasses
It is the height of summer so don't forget to accessorise with a pair of cool sunglasses.
If wearing a flowing dress, go BIG and bold with your sunglasses to complete that Boho Chic look.
Complement your vintage style dress with cateye sunglasses – a classic '40s and '50s look with their elegant feline inspired swept up style.
The Cover Up
Close to the coast, Goodwood is also known for its cooler breezes so look for a summer cape, fine cashmere poncho or elegant wrap to accessorise your outfit.
The Handbag
Allow for a scorcher by toting a larger handbag that has room to contain a bottle of suntan lotion and a cover-up  for when the weather cools later in the day.
Choose a summery pastel or bold colour to tone or contrast with your outfit.
For the men – What to Wear to Goodwood Racecourse:
Back in 1906, trend setter King Edward VII established the quintessential summer code for men that is still associated with the Glorious Goodwood Festival to this day: the linen suit and Panama hat.
We Say…
Although a fine tradition, the wearing of a linen suit and the Panama hat is not obligatory to enter into Goodwood's Richmond Enclosure. But when wearing such attire makes any gent look sartorially chic, why not go with the flow?
The Linen Suit/Jacket
Linen is ideal in hot weather as this natural fabric is loosely woven allowing air to circulate freely and the skin to keep cool. It also suits a looser fit style which is more comfortable in hot sticky climates than the more tailored suits and is great for most body shapes.
Linen suits range from the light cool colours of pristine white, cream, grey and stone to the darker tones of khaki, grey and navy. For the adventurous there are also the pastel shades of pink and blue.
Some racegoers opt for just linen in their jacket such as the above gentleman on the right in the cream jacket and dark trousers.
The Shirt
Pale linen suits and jackets look great paired with shirts in most hues: the crisp clean look of a white shirt; an elegant tonal look with creams, ivory and beiges; a cool chic look with pastels or the statement look with bold brights.
The Tie & Cravat
Most racegoers wear a tie but a cravat is acceptable.
The tie or cravat gives the neutral linen suit/jacket a pop of colour, but don't go too bold and bright that it jarringly stands out. Go for pale or bright pastels like the above gentleman in the striped linen jacket wearing a pink tie. Or if you prefer a deeper colour, make sure it is a muted shade like the above  gentlemen on the right in the linen suit wearing a patterned burgundy tie.
Panama Hats
Whether you opt for the traditional linen suit or just a smart jacket and tie, the hat to be seen in is the Panama hat.
Surprisingly the Panama hat doesn't originate from Panama but Ecuador. Many factors endorsed the name: Panama was the international point where goods from South America would be taken before being shipped to Europe and the USA; workers on the Panama Canal wore them for shade and when visiting the Panama Canal construction President Roosevelt was seen wearing one. But probably the main reason was when the hats were sold in the Paris World Fair in 1855 by a Frenchman living in Panama. Ecuador was not mentioned as a participating country, so the hat became known as Panama's.
At Goodwood, a popular sight is the Panama with the hatband in Goodwood's racing colours of red and yellow. These can be purchased from www.goodwood.com
Footwear
Yes linen suits look great with moccasins, boat shoes and even sandals. But for Goodwood you're going for the smart look, so opt for derby, loafer or monk shoes in a light neutral colour. Avoid black as this is too dark.
Karen Grace studied Personal Styling at the London College of Fashion and is Eclipse Magazine's Fashion & Beauty Editor.
You can read more of Karen's fashion advice at: www.frumpytofunky.com
For personal shopping and styling services you can reach her via frumpy to funky on [email protected]