What to Wear to Ayr Racecourse.
Scotland's premier racecourse, this is a venue for both Flat and Jump racing throughout the year, and with the main Scottish festivals: The Scottish National and the Ayr Gold Cup. Here, you can check out our specialised guide on what to wear to Ayr.
Official Dress Code
Hospitality Facilities and Club Stand
Smart casual dress code is accepted but no ripped/torn denims or trainers are permitted.
Grandstand
There is no formal dress code for this area.
What to Wear to Ayr Racecourse for the Scottish Grand National
The Scottish National takes place in April over two days. Although the official dress code is still smart casual, the ladies tend to dress up in glamorous dresses and hats/fascinators and the gents show off their sartorial style.
For Ladies, We Say…
The Scottish Grand National ladies' style is very similar to the Aintree Grand National ladies' style – Dress to Impress through glamour, glitz and fashion.
The Hat
Although the hat is an important accessory, the SGN lady focuses more on her dress than her headpiece so you will find small fascinators are just as popular as hats. Plus a fascinator is a much better choice for the unpredictable Scottish weather.
The Sandal
Like the Aintree lady the SGN lady does not wear tights, but unlike the Aintree lady, she isn't preoccupied with being a bronze tanned goddess and seems to be comfortable in her own skin tone – light or dark.
However she does prefer to wear high heels to show off her smooth bare legs, strappy sandals being the favourite.
The Pedicure
Ensure your feet are in tip top condition as they will be exposed in sandals. A pedicure can give them a freshly groomed look and complete your flawless outfit.
Choose a nail polish colour to match the mood of your outfit: soft pastel shades for romance; reds, purple and burgundy for the classic sexy style and bright colours for a bold look.
Statement Jewellery
Statement jewellery adds a generous amount of bling. Necklace, earrings, bracelets and even the anklet to complement the bare ankle.
The Sunglasses
A sunny optimist, the Scottish lady expects the sun to shine on the day so sunglasses are essential. Go for the classic designers or a colourful frame to match/contrast with your outfit.
The Pashmina
The Scottish Grand National is all about celebrating the summer look, so for the ladies it's no jacket required.
However the weather may not have received the memo – a shawl or pashmina is the best way to keep the chill away and still have your gorgeous frock on display.
To keep the summery feel go for a dreamy ethereal look and choose a light fabric and light colours.
The Umbrella
April Showers are not uncommon in Scotland but don't allow your umbrella to let you down in the fashion stakes. If it's raining this will be on view for all to see, and you'll still want to show off your excellent understanding of what to wear to Ayr Racecourse. It doesn't have to be expensive, just in good condition and to complement your outfit with its colour or print. A compact umbrella is a good choice so you can keep in your bag when the sun shines.
For Gentlemen, We Say…
The Scottish Grand National is synonymous with the glitz and glamour of ladies' fashion, but what about the boys? Don't be left behind in the fashion race, give the ladies a run for their money and show off your fashion flair.
Although no official dress code, this is the race to show off your dapper style. Most gentlemen wear suits at this event but don't fade in to the background; swap those dull work suit colours for a more vibrant shade.
Hang up your grey suit for a day of colour. This is definitely a bold move and confidence is one accessory you need to carry around with you. Bright blue is probably the least scary of the bold colours and the most accepted in a suit.
The Shirt
Don't be conservative, jazz up that city suit with a loud shirt.
Go wild with pattern and bold with colour.
Even if wild patterns and bold colours are not your sartorial taste, you can still stand out from the crowd of white and pale blue shirts with more subtle patterns and softer colours.
The Sunglasses
An important must have accessory to give a cool look
Click here How to Spice up Your Suit – Part 2 – Eclipse Magazine to see our article on what style of sunglasses to wear for your face shape. It's universal in its applications, and it's a sure fire way to express that you know what to wear to Ayr Racecourse!
Shoes and Socks
Don't miss the opportunity to brighten up your city suit with a pair of colourful/patterned socks.
What to Wear to Ayr Gold Cup
Held in late September, Ayr Gold Cup is one of the most high profile racing festivals in Scotland with a fantastic prize up for glamorous grabs in their Best Dressed Ladies Competition ensuring the ladies of Ayr dress up for the occasion.
Ladies, We Say…
It may be the end of September but the ladies of Ayr are not prepared to relinquish summer on this occasion, and the Ayr Gold Cup Ladies' Day sees the full panoply of cocktail dresses, eye-catching hats and headpieces, along with heels, fake tan and fabulous hairdos.
The Hat
Although a hat is a not compulsory, you really need a show-stealing one in order to catch the judge's eye and become a finalist in the Best Dressed Ladies Competition.
Footwear
The Ayr ladies are not afraid of heights and many wear towering heels. Full shoes and tights may be a better choice for the weather but that hasn't stopped these glamorous ladies from showing off their tanned legs and wearing strappy sandals.
Statement Jewellery
This is the type of occasion where there is no such thing as OTT so pile on that bling.
The Cover Up
Held in late September, the chance of warm weather is slim. However the Scottish ladies are not afraid of a little chill in the air and don't want to cover up their beautiful outfits.
The best option would be a colourful wrap to drape over the shoulders to complement your outfit and provide a little warmth. If you're not as hardy and do feel the cold, then go for a short jacket in a summery colour.
Gentlemen, We Say…
It's time to look and be debon'Ayr' for one of the richest sprinting challenges in Europe and THE richest Flat race in Scotland.
City suits are the popular choice for this festival – Check out our article on How to Spice up your Suit – Part 1 – Eclipse Magazine and take the office look out of your suit.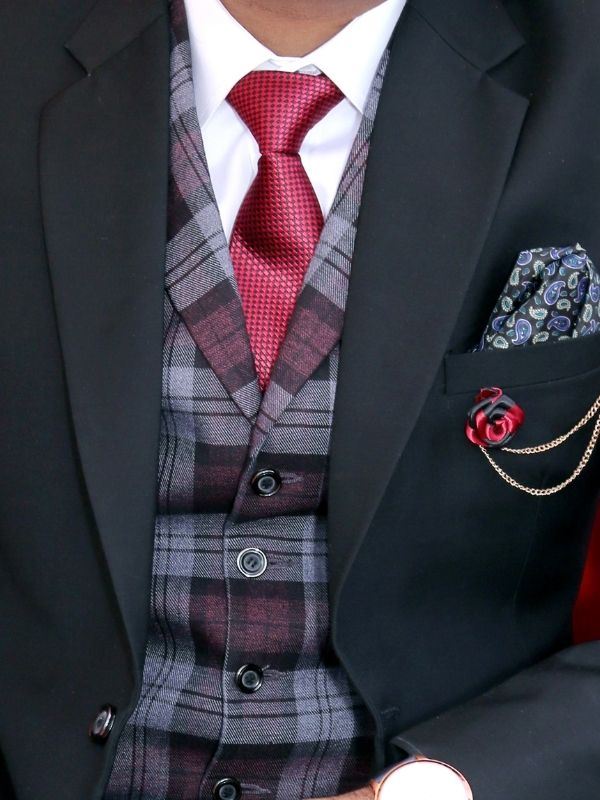 The Waistcoat
A waistcoat will provide another layer of warmth against the elements so a three piece suit is a good sartorial move. Or opt for a contrasting waistcoat to wear with your two piece suit – this will highlight your sense of style with great panache.
Note: Opt for wool waistcoats and leave the silk/satin waistcoats to the wedding parties.
Sartorial Rule: On a single breasted waistcoat always leave the bottom button undone.
Why you ask? That's a good question and there are a few possible theories. We favour the horseriding theory: to prevent the waistcoat from creasing, the gentleman kept the bottom button open. However the most popular is of the Prince of Wales (future King Edward VII) unbuttoning his due to a feeling of tightness and his court followed suit thinking this was a new trend.
Shoes & Socks
Remember to bring a flash of colourful fun with a pair of socks.
Karen Grace studied Personal Styling at the London College of Fashion and is Eclipse Magazine's Fashion & Beauty Editor.
You can read more of Karen's fashion advice at: www.frumpytofunky.com
For personal shopping and styling services you can reach her via frumpy to funky on [email protected]