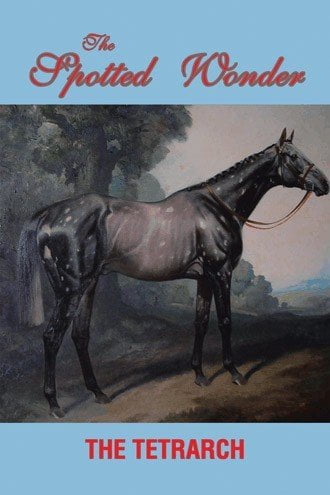 The Tetrarch was one of the Turf's greatest racehorses and here 'he' tells his story.
In this interestingly-narrated book, the Irish-bred colt is the author – don't be put off, his 'voice' is very knowledgeable about racing while explaining it in an often wryly humorous and very accessible way. If you are new to racing you will learn much about the sport, while if you are already an aficionado you will appreciate the nuances and enjoy the commentary!
The story unfolds the gripping saga of the fastest two-year-old ever to set hoof on an English racecourse. From his birth to his death, this is a chronicle of the life and times of The Spotted Wonder – so nick-named for his remarkable colouring. The pace of the book is during the racing years, with The Tetrarch recounting his speed trials and astonishing wins… think Frankel from the early 1900s and you will have an idea of the shock and awe inspired by the launch of this horse onto an unsuspecting public.
With an unbeaten career on the track, his elevation to public icon is prelude to his retirement amid sensational circumstances weeks before the 1914 Derby for which he was the favourite.
The latter half of the book recalls his second career as a stallion at the Ballylinch Stud in County Kilkenny and pays homage to The Tetrarch's legacy, the dynasties he established on both sides of the Atlantic – an influence still felt to this day.
This half is really for readers who follow racing as it becomes a tally of his progeny and their own successes – most notably the 'Flying Filly' Mumtaz Mahal. Though the author does his best to inject interest into the roll-call of racing pedigrees, the pace has slackened and you would need to be interested in bloodlines to get the most out of this part.
Although one of English racing's legendary performers, The Tetrarch has never been the subject of a book. Although slower in the second half, this equine autobiography is so entertaining in the first half it is a book not to be missed, whether you enjoy racing or simply love horses. More 'grown up' than Black Beauty, it has the character and interest of The Byerly Turk (both also narrated by the horses) without the epic scale.
Supported by a number of rare photographs, The Spotted Wonder is a treat to horse and horseracing aficionados.
The Spotted Wonder by The Tetrarch
Hardcover ISBN 9781496994837
Softcover ISBN 9781496994844
E-Book ISBN 9781496994851
Available at Amazon and Barnes & Noble