For 2021, Ascot Racecourse celebrates new season trends and the sustainable fashion movement with the launch of its 10th Royal Ascot Style Guide, in association with Swiss watch brand Longines.
Royal Ascot (Tuesday 15th to Saturday 19th June 2021) is a highlight of the British summer season and, after a year of uncertainty and lockdowns, it will truly herald the return of occasionwear when it opens its doors this year.
Its annual celebration of the very best of contemporary and traditional fashion and style will be one of the first occasions for more than a year where Britain can get dressed up and this year, Ascot Racecourse is keen to emphasise sustainability and the art of conscious shopping. A collaboration with legendary stylist Bay Garnett features garments sourced from charity shops, nearly new boutiques, vintage emporiums, and re-sale websites.
Queen of Thrifting, Bay Garnett pioneered the idea of shopping in second-hand stores as being relevant to high fashion. Working with Ascot, Bay sourced feature looks by well-known names such as Chanel, Gucci and Yves Saint Laurent from Rellik, Cancer Care, eBay, Found & Vision, My Wardrobe HQ and Circle of Style.
Visionary photographer Tom Craig brought his creative eye to the campaign with the duo creating images that elevate the world of pre-loved fashion. Through this year's Royal Ascot Style Guide, Ascot is keen to demonstrate to racing followers around the world that the Royal Meeting is about looking your best – and that doesn't necessarily mean you have to buy something brand new. This is particularly relevant in today's climate when the pandemic has affected so many around the globe.
Bay Garnett comments: "Royal Ascot is one of the most glamorous and traditional events of British sporting life. To have an opportunity to bring second hand into this context was very exciting and I jumped at the chance! This is exactly the sort of event that can change the perception around second hand clothes. I hope that this year's Style Guide shows that by buying second hand, it is not only a better choice for the environment but is also a way to dress in a fun, individual and stylish way."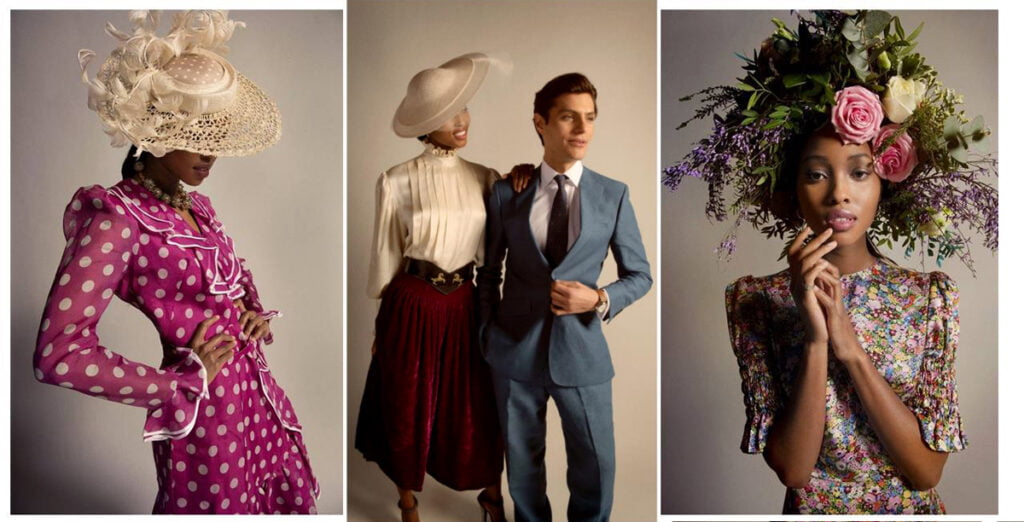 For 2021, the Royal Enclosure Style Guide features British brands, paying homage to the incredible talent and style found across the nation, as well as established international names. Featured looks throughout include pieces from Alessandra Rich, Erdem, Simone Rocha, Alexander McQueen, Manolo Blahnik, Zeynep Kartal, Ashish, Zimmerman, Taller Marmo, Garrard and Longines.
Sustainable fashion can be found throughout the Style Guide from labels including L.K.Bennett, Galvan, Monsoon, Hobbs, Hugo Boss, Essen, and Hasanova @ Wolf & Badger. These are labels which follow ethical practices, use natural / organic fibres, or modern materials which cause less stress on the environment.
For gentlemen, classic tailoring, light summer suits, and ties in pastel shades come to the forefront of formal wear. Recognising emerging trends in formal menswear, navy morning suits are now permitted in the Royal Enclosure. Featured brands include Favourbrook, Oliver Brown and Harrys of London.
The Royal Ascot Style Guide features millinery from the likes of Philip Treacy OBE, Stephen Jones OBE, Edwina Ibbotson, Lock & Co, Sarah Cant, Rachel Trevor-Morgan, Jane Taylor, Awon Golding, Lisa Tan, Vivien Sheriff, Victoria Grant and Justine Bradley-Hill. This year face coverings are featured from Rachel Trevor-Morgan and Marks & Spencer.
These images were created in conjunction with stylist Nicole Smallwood, Fashion Director at Country & Town House, and fashion photographer Rachell Smith.
Felicity Barnard, Commercial Director, Ascot Racecourse, comments: "We anticipate Royal Ascot 2021 will be an important event in this year's calendar as the highest profile formal occasionwear outing in Britain for over a year. The event is known for setting the trends but more than anything, we see 2021 as an opportunity to celebrate with friends and family. We have chosen this year's 10th anniversary Style Guide to shine a spotlight on pre-loved fashion and encourage racegoers to 'shop their wardrobes'.
"We were thrilled with the images Bay and Tom produced for 2021. They demonstrate that whilst Royal Ascot is an elite sporting event, dressing for the occasion is not in itself an elite sport. We look forward to celebrating the festivities with everyone in June, be they with us at the racecourse or watching all the action from home."
Royal Ascot will be held from Tuesday 15th – Saturday 19th June 2021. For further information please visit www.ascot.co.uk/royalascot.
Karen can usually be found glued to her computer or at the stables. Having edited several national magazines she co-founded Eclipse Magazine in 2008 after realising that many of her friends were nervous about going racing due to lack of information – what to wear, how to bet etc.
She absolutely loves her job (how many people can say that?!) and is truly grateful to all supporters of and contributors to Eclipse Magazine.
If you are reading this she would like to say THANK YOU! (And please spread the word about Eclipse…!!)