[et_pb_section admin_label="section"][et_pb_row admin_label="row"][et_pb_column type="4_4″][et_pb_text admin_label="Text" background_layout="light" text_orientation="left" use_border_color="off" border_color="#ffffff" border_style="solid"]
Cheltenham Festival Ladies' Day
Fabulous furs, feathers, coats – and bright colours! – were the stars of this year's Festival fashion:
Sue Lucas, Fiona Lintin and Jean Lucas
Amanda Trembeth, Anne Beesley, Jean Porter, Clare Mitchel, Michelle Pope and Vanessa Edghill
Lizzie Kelvin-Hughes (wife of racehorse owner Richard Kelvin-Hughes) and Shirley Hodgkiss
Danni Loader wearing an Yvette Jelfs hat bought on site from the trade stands
Mrs C Spence, Mrs N Hennigues, Mrs N Wingley
Sophie Lydia-Smith, Charlotte Jade-Hamilton
Hen Party of Stacey Matthews / Kim Matthews
Elena de la Torre
Siobhan Lee
Siobhan Brown and Kelly Hazel
Lisa von Hallwyl – milliner – models one of her creations lisavonhallwylmillinery.co.uk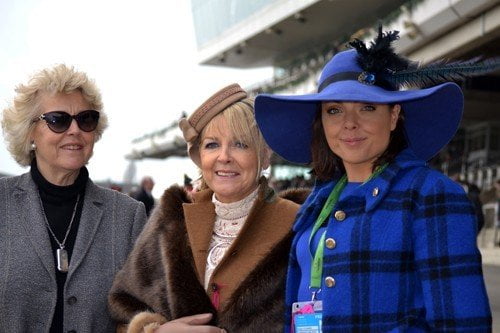 Carmel Marrinan, Yvonne Marrinan and Hayley O'Connor (a jockey riding on Friday for JT McNamara, in the charity race, has raised over £120,000 for the Injured Jockeys Fund)
Bridget Robbins – another milliner!, Abi Stock (who works for Stratford Racecourse) and Zoe Stock
And the gentlemen too….
Lauren Jones and Jon Franklin
Callum Lord
Robert Paling and Duncan Trow
Huge thanks to all who posed for our photographer Rachel Groom and reporter Charlotte Greig! 
[/et_pb_text][/et_pb_column][/et_pb_row][/et_pb_section]
Allison is the Publisher of Eclipse Magazine. She loves going to the Races and is learning to bet (despite being officially the worst bettor in the History of the Universe), there's a lot more to learn…